Lux Tyres Quality Part Worn / Used Tyres in Halifax, West Yorkshire
Cheap Part Worn Tyres In Halifax
Used and Part Worn Tyres
Used and part-worn tyres are much more affordable than brand-new tyres, which is especially important for those on a tight budget. Additionally, all Lux Tyres used and part-worn tyres in Halifax are still in great condition, with plenty of tread depth remaining, which means they can still provide excellent performance and safety on the road. By choosing used or part-worn tyres, you can save money, reduce your environmental impact, and still enjoy high-quality tyres for your vehicle. Contact Lux Part Worn Tyres in Halifax!
A Wide Variety of Used Tyre in Halifax
Our collection of 1000's of part-worn tyres means we have options available for any budget, and in any brand. As well as this, we also have tyres ranging in size from 10" to 22".
Lux Tyres Proudly Sell Premium and Mid-Range Part Worn Tyres Including:
Premium Used Tyres:
Bridgestone
Contiental
Dunlop
Goodyear
Michelin
Pirelli
Mid-Range Used Tyres:
Davanti
Evergreen
Landsail
Firestone
Yokohama
Toyo
Avon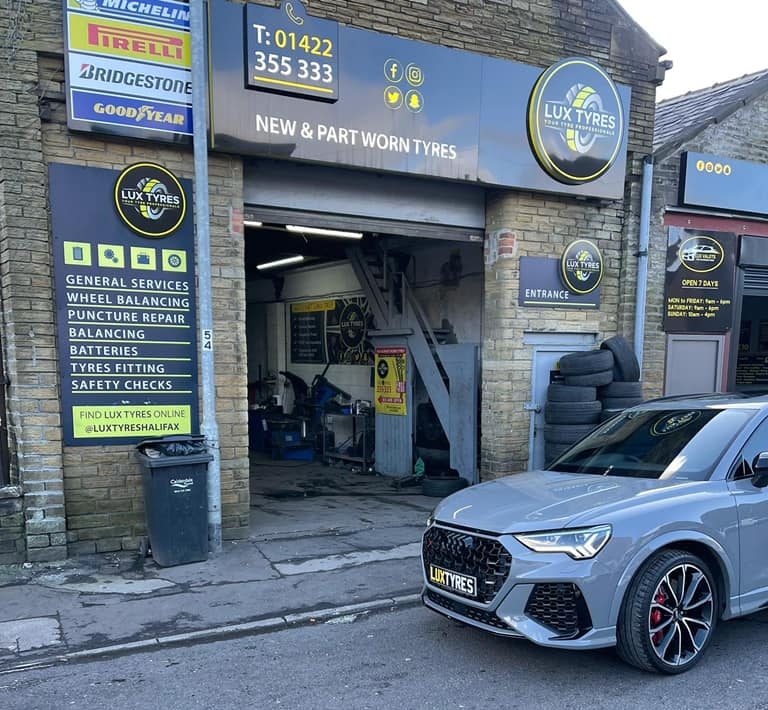 We Come To You! Wherever You Are in Halifax and the Surrounding Areas
We offer a range of convenient tyre fitting options to suit your needs at Lux Tyres in Halifax. In addition to visiting our garage at your convenience, we also provide a highly sought-after mobile tyre fitting service for new and part worn tyres. This allows Lux Tyres to come to your preferred location, whether it be at your home, workplace, or roadside, to provide a prompt and efficient tyre replacement service.
Part Worn and Used Tyre Frequently Asked Questions
Below are answers to some frequently asked questions we get asked at Lux Tyres in Halifax about our range of part-worn and used tyres.
Can't find the answer to your question? Give the Lux Tyres team a call on 01422 355 333 and we'll be happy to help!
Find Lux Part Worn Tyres in Halifax, West Yorkshire
We are conveniently located in Halifax, West Yorkshire, and our team is always ready to assist you with all your used tyre needs. Can't find us? Give us a call on 01422 355 333.
Need Part Worn Tyres in Halifax?
Feel free to get in touch with Lux Used Tyres in Halifax today to get a quote or just some more information on our range of part-worn tyres.
You can contact us via Phone, Email or visit our shop if you're nearby.