Lux Tyres Fleet and Business Tyres in Halifax, West Yorkshire
Fleet Tryes in Halifax, West Yorkshire
Fleet Tyre Checks
At Lux Tyres in Halifax, we understand that keeping your fleet of vehicles running smoothly and efficiently is crucial to the success of your business. That's why we offer a comprehensive range of fleet tyre services designed to meet the unique needs of your fleet. From routine tyre maintenance and repairs to emergency roadside assistance and fleet-wide tyre replacement, our experienced technicians have the expertise and resources necessary to keep your vehicles on the road and your business moving forward.
Our fleet tyre services are backed by the latest technology and equipment on the market, ensuring that every tyre is inspected, repaired or replaced to the highest possible standard. At Lux Autos Fleet Tyre Management, we are committed to providing our clients with the best possible service, and we pride ourselves on our fast, efficient and reliable fleet tyre solutions.
A Wide Variety of Fleet Tyres in Halifax
Our collection of 1000's of new tyres means we have options available for any budget, and in any brand. At Lux Autos Fleet Management Services we're ready to get your business back on the road.
Affordable Fleet Tyres in Halifax
If you're looking for affordable tyres for your fleet in Halifax, look no further than Lux Tyres on Hopwood Lane (HX1 4HC). We offer a wide range of affordable tyres for all types of vehicles, without sacrificing quality or safety. Our team of tyre experts can help you choose the best tyres for your needs and budget, ensuring that you get the most value for your money.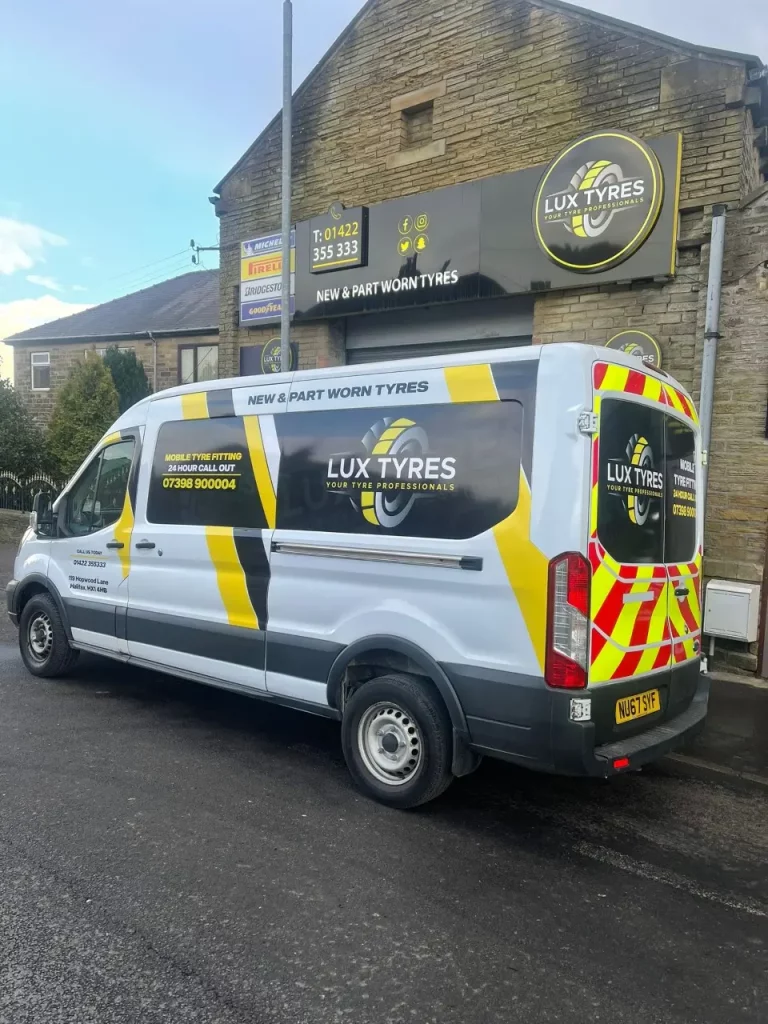 We Will Come To You! Wherever You Are in Halifax and the Surrounding Areas
We offer a range of convenient tyre fitting options to suit your needs at Lux Tyres in Halifax. In addition to visiting our garage at your convenience, we also provide a highly sought-after mobile tyre fitting service for new and part worn tyres. This allows Lux Tyres to come to your preferred location, whether it be at your home, workplace, or roadside, to provide a prompt and efficient tyre replacement service.
Lux Tyre Frequently Asked Questions
Below are answers to some frequently asked questions we get asked at Lux Tyres in Halifax about our range of cheap and affordable tyres.
Can't find the answer to your question? Give the Lux Tyres team a call on 01422 355 333 and we'll be happy to help!
Find Lux New Tyres in Halifax, West Yorkshire
We are conveniently located in Halifax, West Yorkshire, and our team is always ready to assist you with all your tyre needs. Can't find us? Give us a call on 01422 355 333.
Need Fleet Tyres in Halifax?
Feel free to get in touch with Lux Affordable Tyres in Halifax today to get a quote or just some more information on our range of tyres.
You can contact us via Phone, Email or visit our shop if you're nearby.