Lux Tyres Quality Part Worn and Used Tyres in Todmorden, West Yorkshire
Used and Part Worn Tyres in Todmorden
If you're on a tight budget, used and part-worn tyres may be a more cost-effective option than buying brand-new ones. Lux Tyres in Todmorden understands this and offers a wide range of used and part-worn tyres that are still in excellent condition, with plenty of tread depth left. By choosing our used tyres, you can achieve the same level of performance and safety on the road while also saving money and reducing your environmental impact. Contact Lux Part Worn Tyres in Todmorden to explore our options.
New Tyres in Todmorden
Lux Tyres also provides a broad range of new tyres that are a wise investment for vehicle owners due to their exceptional performance and safety on the road. Our new tyre selection is available at competitive prices to fit any budget and size requirement. The tyre brands we offer at Lux Tyres are made to the highest standards and have excellent grip, handling, and durability. Contact us now to see our complete range of new tyres and experience the difference they can make for your vehicle.
Mobile Tyre Fitting in Todmorden
Lux Mobile Tyre Fitting Services in Todmorden understands that time is valuable and getting your tyres changed at our shop may be difficult. As a result, we provide mobile tyre fitting services to all of our customers. We can come to your location to replace your tyres at your convenience, bringing all the necessary equipment to your home, office, or any other location you choose to perform a quick and efficient tyre replacement. With our mobile tyre fitting services, you can save time and get back on the road without any hassle. Contact us now to schedule your mobile tyre fitting appointment in Todmorden.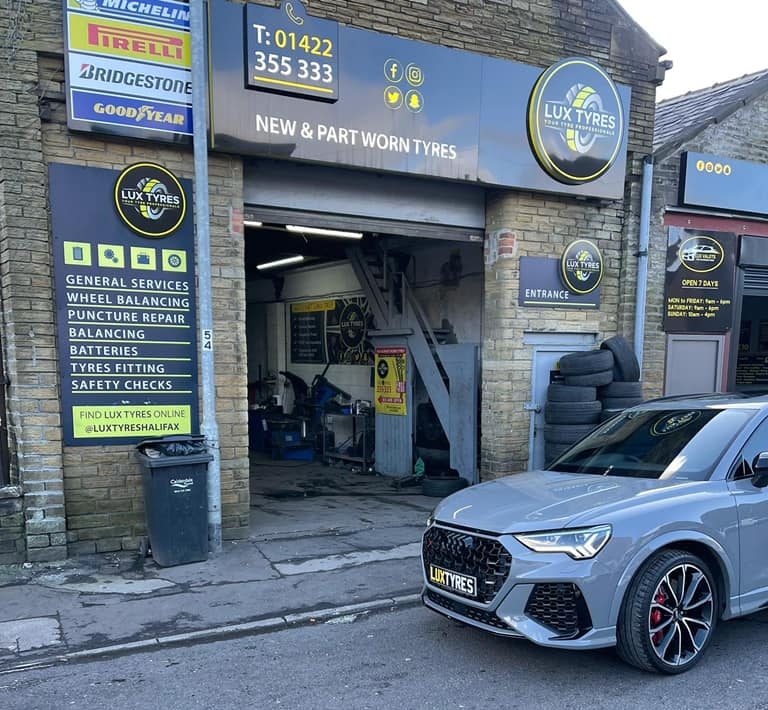 We Come To You! Lux Tyres covers Todmorden and the surrounding areas.
We offer a range of convenient tyre fitting options to suit your needs at Lux Tyres. In addition to visiting our garage at your convenience, we also provide a highly sought-after mobile tyre fitting service for new and part worn tyres. This allows Lux Tyres to come to your preferred location, whether it be at your home, workplace, or roadside, to provide a prompt and efficient tyre replacement service.
Todmorden Tyre Frequently Asked Questions
Below are answers to some frequently asked questions we get asked at Lux Tyres in Todmorden about our range of new, part-worn and mobile tyre fitting services.
Can't find the answer to your question? Give the Lux Tyres team a call on 01422 355 333 and we'll be happy to help!
Find Lux Tyres Tyres 
We are conveniently located on Hopwood Lane, Halifax, West Yorkshire, and our team is always ready to assist you with all your used tyre needs.
Can't find us? Give us a call on 01422 355 333.
Feel free to get in touch with Lux Tyres in Todmorden today to get a quote or just some more information on our range of part-worn tyres.
You can contact us via Phone, Email or visit our shop if you're nearby.